All Swiss3Dc designed parts are made and produced in Switzerland, standard parts are imports.
The colours of the parts on the images in the shop and on the website are for differentiation purposes only.

Nozzles
All our nozzles are manufactured to the highest standards, this will ensure your printer to perform the best.
Not only the outside of the nozzle is perfectly machined, also the inside, close to a mirror polish finish for the filament to slide smoothly all the way to your printed part.
High efficiency nozzles
■  Nozzle
■  Thermal contact
▧ Heat block

1. Standard nozzle

2. 🇨🇭3Dc nozzle
Threaded
Wrench needed
Heavier
Uneven thermal contact
Tapered
No tools required
40% lower weight
+50% thermal contact
Swiss-made precision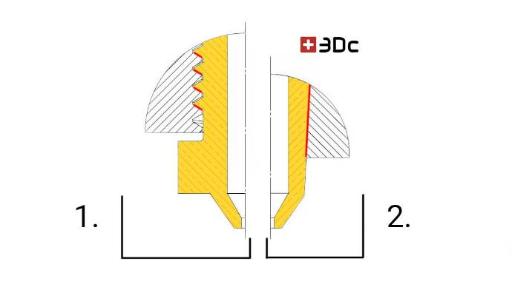 The right nozzle...
is available for 1.75mm filaments. We added some colours to make the nozzles easily recognisable at any time. (July 2021)

The brass 0.4 mm nozzle offers a good balance of print speed and precision. (without colour marking)

For other usages at standard temperatures, the brass nozzles are available in a small (0.2 white; 0.3 dark grey), standard (0.4) and larger sizes (0.6 red; 0.8mm)
The copper nozzles nickel-plated offer the best thermal conductivity, it permits higher material flow and therefore, higher print speed. The copper nozzles are available in standard 0.4 and larger size 0.8mm.
More nozzles sizes, length and materials soon available, stay tuned.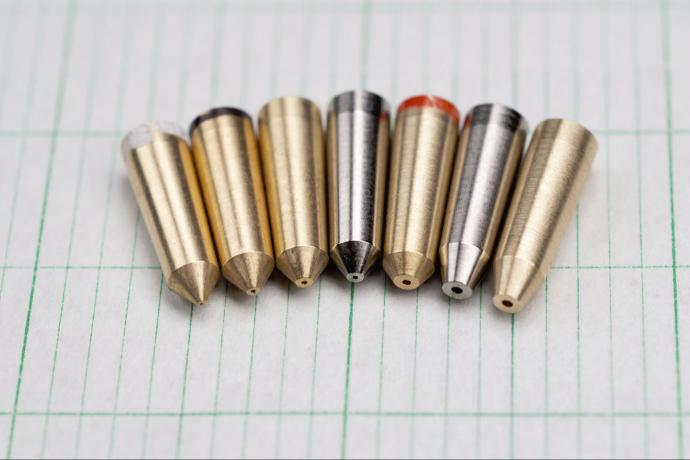 No product defined
No product defined in category "Nozzles".