All Swiss3Dc designed parts are made and produced in Switzerland, standard parts are imports.
The colours of the parts on the images in the shop and on the website are for differentiation purposes only.

Heat Sink Connectors (HSC)
Heat Sink Connectors (HSC)
Heat Sink Connectors

Many printers are available in the market.
As you can see, it is fairly simple to implement our Starlex system on many printers. Here are the first Heat Sink Connectors (HSC) that will fit the following 3D Heat Sinks and DD

1. Creality Cr10, Cr10S, Ender3, Ender3_V2  (The heat sink will be changed and the fans shroud need to be printed)
E3D Heat Sink:
2. V6 M7x1 thread,
3. V6 M6x1 thread,
4. Hemera Heat Sink and Direct Drive,

(All fan shrouds are not designed yet. Check available space under the Heat Sink of your system to mount the Starlex system, it is 30mm in diameter, nozzle axis should be at minimum 16mm from carriage support)
More Heat Sink Connectors & fan shrouds are on the way. (Hemera DD; LGX DD, Prusa i3 MK3...)

Contact us for more information. If your printer is not mentioned here, it means that we did not have the chance to have one physically, and therefore not have been able to implement and test our design. You are most welcome to bring your contribution and share your mods.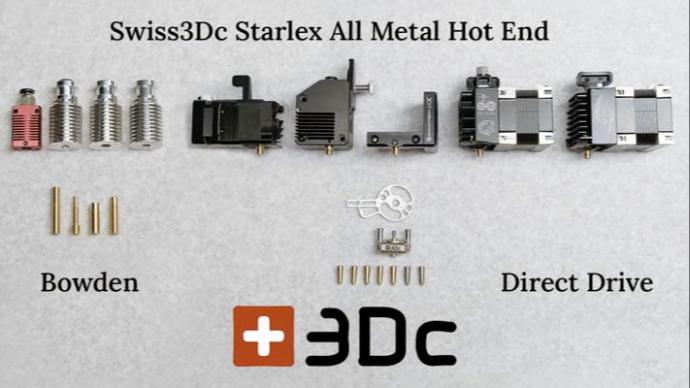 No product defined
No product defined in category "Spare Parts / Heat Sink Connectors (HSC)".